Collision Craft Auto Body Repair is skilled in delivering paintless dent repair to customers looking to have dents, dings and other minor damages removed without the need for additional services like sanding and painting. Not every collision center is capable of offering paintless dent removal, and we're proud of the skill, experience and capability of our team in being able to deliver this service to customers from Westmont, Hinsdale, Downers Grove, Darien, and DuPage County, IL.
How Does it Work?
Traditional dent removal involves pounding out the dent, then grinding, sanding and buffing to restore the integrity of the area around it. Unfortunately, it also means you'll need to pay for auto paint as a finishing service.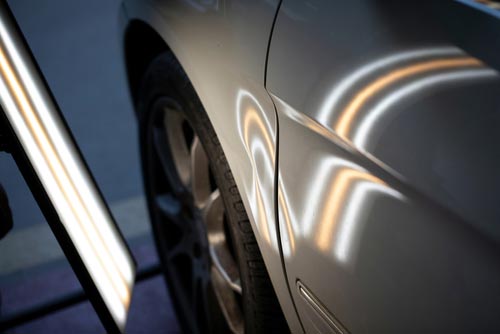 Paintless dent repair uses a special system of tools to re-shape the metal to remove the dent, without any pounding, sanding, grinding or painting. The paintless system is highly effective at removing most small-to-medium-sized dents and is much quicker and easier than traditional removal.
The Benefits of Paintless Dent Repair
It's a smart idea to work with Collision Craft Auto Body Repair for dent removal because we employ a paintless repair approach whenever possible. Take a look at the benefits that come with paintless dent removal:
Quicker and simpler than traditional dent repair
Doesn't require any sanding, grinding or painting
Is more affordable than traditional repair
Covered by most major auto insurance policies
Paintless is less invasive than traditional dent removal
Will it Work for Your Vehicle?
Paintless dent repair works on 80-90% of dents, which means we're able to fix most general dents and dings using a paintless approach. However, the bigger and more severe the damage, the more an inspection is needed to determine if a paintless approach will work. We invite you to schedule an appointment to see if your vehicle will benefit from paintless dent repair.
Get Paintless Dent Repair
Have a dent you want removed, but don't want to go through the cost and hassle of traditional repair? Contact us at Collision Craft Auto Body Repair today at 630-968-6700 to learn more about the paintless dent repair process or to schedule an appointment with our auto body shop in Westmont, IL for any other forms of collision or auto body repair you may need.